Battle Snake
Battle Snake is not an ordinary snake game. Possibly you never met this type of the snake game. Based on classical snake games Battle Snake introduce a new genres combination. In this game you as always control the snake which eats different food to grow. In the same time you growing not for scores but with growing you gather "ammo" that you need to strike robots which levels have in myriad number. This is a hot combination of the snake game and the shooter (or the arcade game and the action game) creates unique gameplay. We called that Battle Snake.
You can see the terrific beautiful graphics and play Battle Snake even on old and slow computers. Battle Snake is an adventure passing not only the one world. You need to pass green flowery fields, the cold icy north with its snowfalls, underground caves with rivers full of lava, high-technological UFOs world. Respectively all worlds have their own terrain and food which accompany with different graphics.
In Battle Snake you need to fight with 14 various types of robots which have a unique ability each. But each enemy's army must have a general and in Battle Snake you met 2 bosses and the SUPER BOSS in the end. Also Battle Snake have a multiplayer mode!

Free download Battle Snake game (5.7 Mb)
Battle Snake Screenshots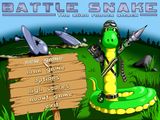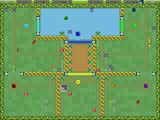 Snake Game Features
Additional benefits in Full Version only:
80 game levels
4 unique game worlds
14 various types of alien robots
All game objects such as teleports, conveyers and others
Cheat codes
2 bosses and SUPERBOSS at the end!
Multiplayer mode
3 levels of difficulty
All future full versions of Battle Snake free of charge
System Requirements
Windows 95/98/ME/2000/XP/VISTA
DirectX 7.0 or higher
Processor 266 MHz
See also: Axy Snake 3D, Worms Armageddon Game.

© Python games